Top 5 tile trends that will dominate in the kitchen for 2018
Smaller & Brighter
Colour is making a big comeback in kitchen designs today, particularly in the tile scene. Tile splashbacks are a great way in introducing brighter, bolder colours as the centrepiece of the kitchen. We are seeing more confidence in colour being used in the kitchen and we are now finding finger or kit kat tiles being used for kitchen splashbacks for creating contrast, depth and interest. Finger or also known as kit-kat tiles are renowned for their long and thin appearance adding visual interest without being overpowering. Inspired by the authentic Japanese architecture, finger tiles reflect passion, ingenuity, and primarily for their dynamism and creativity. Let the colour and texture of your kitchen splashback become the focal point in your home.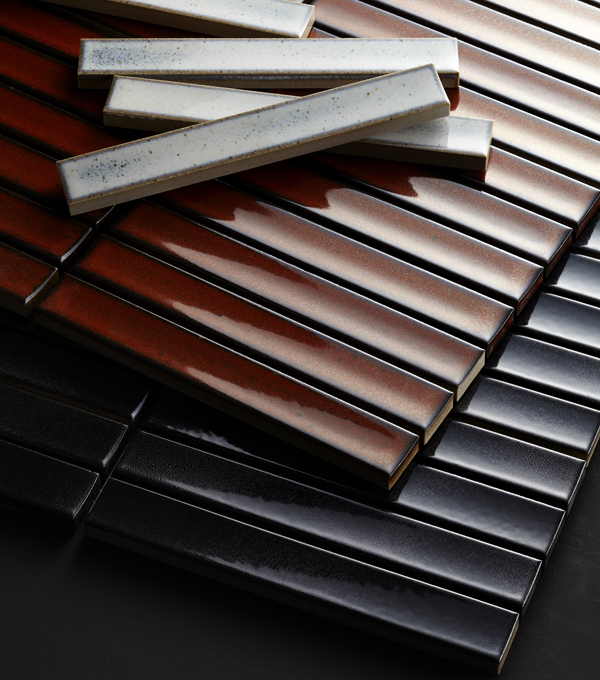 Patterns
It's time to let your creative flair speak out in in the heart of your kitchen. Nothing is more alliterating than a striking combination of colours and shapes! We are seeing myriad options of decorative florals, quirky prints, and abstract geometric patterns to intricate graphics and textile-inspired designs. From modern to antique, bright to monochrome and everything in-between, you are bound to find a tile you love!
Whether you are looking for a pattern on the floor or walls, our latest patchwork collection is a great way for seeking that extra pop of colour, individuality and creativity into your kitchen splashback. Bringing both visual and textural variance, pattern tiles create instant style being the focal point of the room. Go bold with your kitchen tile splashback and create the show stopper piece you have always dreamed of!
Power behind Metallic finishes
Industrial meets eclectic, kitchen trends today are all about timber veneers, colour contrast, texture and heavy metal finishes. The industrial style, perhaps overly accessorized in recent years, has been made significantly less extreme to a much less trendy/identifiable look featuring accents rather than full-on industrial themes. Sheek and unrelentingly stylish, metallic tiles are making a comeback into the kitchen design scene. Its beauty is both industrial and gracefully sophisticated, with three-dimensional and oxidation effects that bestow energy and rhythm. Mix rough aged finishes and modern textures, our Diesel collections is the key to making your splashback bring an industrial vibe with subtle shimmer into the space. Bringing metallic tiles into the home extends beyond the kitchen feature wall into the bathroom, bedroom, living room and dining room can all benefit from a moody accent feature wall.
Long, Sleek & Sheek!
A common kitchen splashback is subway tiles for its classic versatile shape, size and finish. If you love the classic look of subway tiles but love the idea of a long, lean, thinner tiles but the ubiquitousness of subway tile, this one is for you! We are now moving away from subway tiles to longer, and a more elongated look. If you look closely, you will find the tile is slightly elongated from the usual rectangular subway tile shape, which looks twice as long.
The defining characteristic for a classic kitchen, with a larger scale of a subway tile creates a fresh take with added personality. Whether you prefer the stacked, staggered or brick laid effect, elongated subway tiles will give you enough visual oomph without being too overpowering.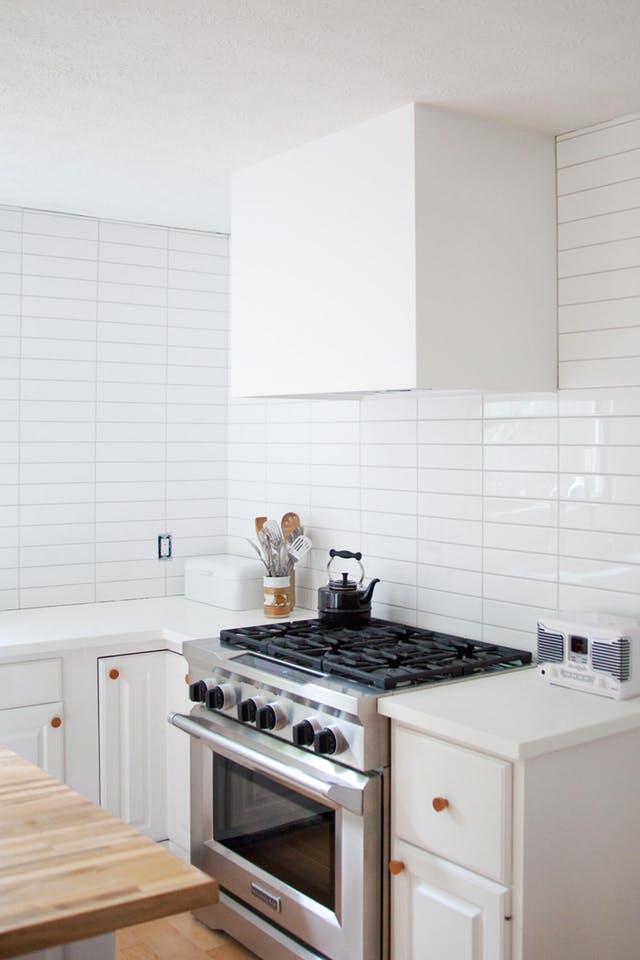 Show stopper splashback
As natural stone is renowned for no two slabs to be identical, this look is certainly a hit for kitchen splashbacks. A personal favourite for kitchen benchtops, we are seeing more home owners continuing this look up onto their kitchen splashback for a flawless end result. Nothing beats a visually strong veined and variegated effect of natural stone that screams nothing but luxury!
Inspired by nature, stone adds a natural and elegant style to the heart of the home.